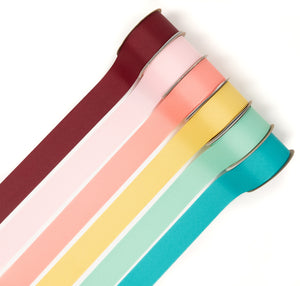 Solid Ribbon
The highest-quality, USA-made ribbon. Available in 1/4 inch to 4 inch widths in over 110 colors!
Shop Now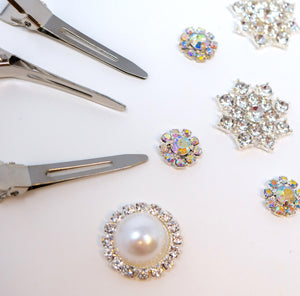 Hardware
A wide range of hair clip and ribbon hardware to complete your perfect bow or craft!
Shop Now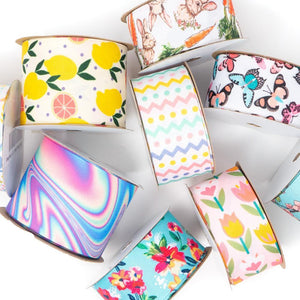 Printed Ribbon
USA made and designed ribbon on our highest-quality grosgrain. Hundreds of trendy prints to choose from!
Shop NOW
SHOP FOR ALL YOUR RIBBON AND BOWMAKING NEEDS WITH RABOM.
Are you looking for the perfect ribbon to create hair accessories, hair bow supplies for cheerleading events, or a special scrapbooking project? Ribbon and Bows Oh My! is the ultimate destination for wholesale ribbon and specialty craft materials. Our signature prints and themed ribbon are some of the finest grosgrain you will find anywhere. Our ribbonistas have more than two decades of experience as a family-owned and operated business. We are proud to be one of the leading distributors of seasonal ribbon, craft hardware, ribbon for hair bows for sale, trims, and cheer accessories. When you choose us as your go-to ribbon source, you will receive service and an experience unlike any other. Explore our exceptional selection of DIY supplies today so you can craft to your heart's desire.
As the main destination for ribbon and bow accessories, RABOM will always have a rich diversity of inspirations to get your creative juices flowing. We proudly offer more than 250 unique prints, paying special attention to consistency and quality. Our selection of hair bow supplies offers every fastener, accessory, and embellishment imaginable. Find hair bow bling, barrettes, epoxy dots, headbands, webbing, our signature clips, and many other hair accessories so you can create exclusive designs for everyday wear or special occasions.
Craft the most spirited bows for upcoming cheer events, competitions, or football games when you discover our selection of cheer hair bows for sale. We offer a wide selection of ribbon, elastics, and decorations that will hold up whether you are tossed into a pike basket or bending into a scorpion pose. Best of all, RABOM is committed to providing attentive service long after your purchase. We offer DIY support in the form of tips and tutorials for adorable bows, ribbon sculptures, home décor, holiday decorations, dog collars, and so much more.
Ribbons are not simply our specialty; they are our passion. When you need the perfect ribbon for your new craft project or DIY gifts, we are the reliable source for wholesale ribbon at marvelous prices. Explore our inventory today to be dazzled and enthralled. If you have any questions, you may contact us during our regular business hours by phone or email.